I ran into situations in class where I find myself repeating over and over a specific instruction to my students to carry certain tasks like playing BAG keys on the keyboard. A majority of my young students find it hard to remember my instructions; they're just so active!
It came to my mind that I need a looped video and that's where the idea of using GIFs came to my mind.
I think this is really genius.
Perhaps better than using Youtube video as it doesn't allow you to loop short clips. I think GIFs does a fantastic job of that. The only loop hole (haha! pun intended) is that GIFs don't usually allow audio clips over it.
Nothing is impossible with the internet these days.
There are many GIF creators site out there and I just happen to used the most common one: Giphy
The site is user-friendly and self-explanatory in terms of creating your own GIF.
All you need are pictures or videos and the site will create the GIF for you.
Here is my sample that I made from a short video clip: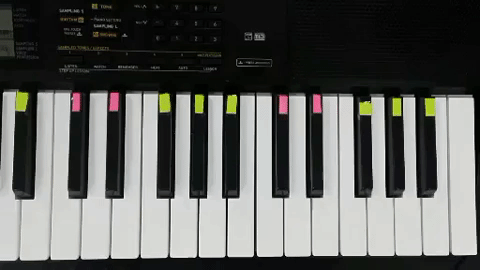 In this GIF, I'm helping my students to learn identify the BAG notes on the keyboard.
I have yet to try it on my own but here is a sample video that teaches you how to insert music to GIFs
Go try this new idea today!
It could be a simple thing like a body movement or drawing the treble clef [That's an idea now!].